I think all of you have heard the word "CIF" when you are dealing with Bank. In this article i am going to explain you what is CIF number in SBI &  What is the use of CIF numbers and How to Find Cif number in Sbi or other bank?
Whenever we transfer bank accounts from one branch to another branch or if we activate net banking, then we need cif number. So let's know what is CIF number is, and how can you find it?
What is CIF Number In SBI?
CIF means "Customer Information File" CIF is a peripheral digital or virtual file which contains all the details of a account holder and and every account holder has a unique code and that code is called CIF number. 
The CIF code is very important for every bank. Because bank can get information related to the name of the account holder, account type, balance, account transactions, loan details and  KYC information etc from CIF number.
Every account holder of a bank have a unique code which means no other people will get that same exact code. If you have more than one account in same bank then bank will allows only one CIF number which contains your both account information.
Don't miss : How to Increase Download Speed in Chrome?
If I tell you in simple words, cif numbers are like your Aadhar number or Voter id card number. Every bank gives CIF number to track the account of its customers.
Customer information file [CIF] carries following data of a bank account holder:
It stores your financial activities on a daily basis
It helps the bank to view all your accounts' information easily in one place
It carries your Demat related information
It stores all of your KYC details
It stores all loan history
How To Check Your SBI Account CIF Number
CIF number of all the banks is a different format, i.e. some banks have a CIF number 8 digit, some of them are CIF number 11 digit. I have named CIF number format of some banks below. Here i am going to share some best ways to find cif no. You can find not only sbi cif number in fact you can find cif no of any banks.
Central Bank of India – 10 Digits
Axis Bank – 4 Digits
HDFC – 8 Digits
cif no of sbi – 11 Digits
Don't miss : Youtube Song Finder : Best Way To identify songs in YouTube videos
How to Find CIF number through Passbook?
Friends the best and easiest way to find sbi cif number is on bank passbook.  All you have to is open your passbook and check the first page where you will get all information like- Account holder name, address,Account number, IFSC CODE and most important CIF number.
 CIF number is mentioned above Account number in Passbook.
How to find cif number in sbi without passbook?
If you are using old passbook then you will not get CIF number there. Apart from this, this is not necessary when you need a CIF number for any work and you have a bank passbook at that time, so you don't need to worry about it you can find CIF number through Internet banking, SBI Everywhere and E-statement.
1. Through Internet Banking
Friends you can check your CIF number through net banking. So lets follow this step by step guide –
Now go to Account Summary page, click on "View Nomination and PAN details" (see below screenshot)

On the next screen you will see CIF numbers.
2. View in E-statement
If you don't have internet banking then you don't need to worry. You can check cif no of sbi through E statement too. If your email is registered with your account then you can  request for e-statement using SMS. In this statement CIF number will also be mentioned.
If you want to get last 6 months statements on your mail then just read this guide.
Now after receiving statements, Just open the PDF file where you can check bank CIF number. As you can see the screenshot below for example.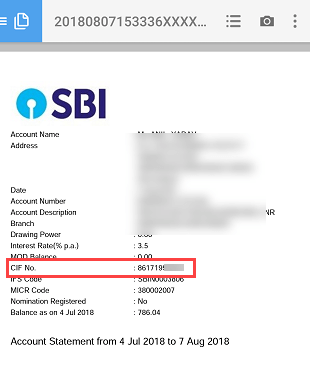 3. View on SBI Anywhere
Friends you can also check the CIF no through the State Bank Anywhere Application. State Bank Anywhere is an app provided by SBi to their customers. If you have activated net banking then you can use this app by entering id and password. You can manage all the things related to net banking through this app.
To find CIF number, First of all log in to SBI Anywhere personal application.
Now open Services tab.
In service section tap on Online Nomination.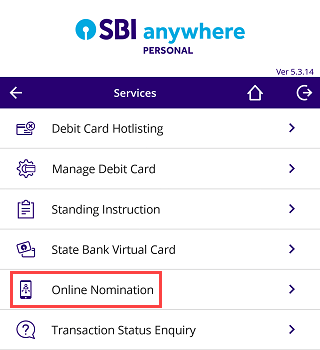 Next you have to select the transaction account in the account type and then select your account number.
Now you can easily check the cif number of sbi.
4. Through Customer Care.
You can just call to customer care of your bank and tell them your bank details and simply ask for CIF code. If you are SBI bank account holder then just call to  1800 425 3800..
Just call to SBI customer service – 1800 11 2211, 1800 425 3800 or 080-26599990. You will be asked for your bank details to verify your identity.
How to Find Cif number of any Bank account?
Friends as i have told you some of the best ways to find cif number of sbi above. Similarly you can find any banks cif no on your pass book, through customer care and net banking.
Read also : How to play clash of clans on Pc
Conclusion:
Friends this was the complete guide on CIF NUMBER. I hope now you have enough information about What is CIF number in SBI and how to find cif number. If you find this guide helpful then please share it with your friends on facebook and whatsapp.