Here is an useful guide to fix commonly faced error "Your Connection Is Not Private Android" on chrome browser. If you are facing this same problem then here i am giving you 5 ways to solve this problem.
Today my friend bought a new phone, when I searched the url of my website in that phone on Google Chrome, I got an error message Your connection is not private. I was surprised to see why such an error is coming to a new device. It took me a while to understand and fix it, but finally I did fix this error. So I thought why not i should share the solution of this error so you can also fix your connection is not private error.
internet is like a boon in our life. With the help of this we learn something new every day from computer and mobile devices, do our office work, use social media. But it can also be a curse for us when a hacker can steal our information from the internet power.
When we are using the internet then there are so many of our informations that hacker can steal throygh internet. The privacy and personal information are important things. We should protect our information from the attacker using safe and secure connections.
Read about | How to download 4k videos from youtube on android or PC
When you are visiting a website from the ssl method (or also known as https), and at that time if you encounter an Your Connection Is Not Private Android error, then you must check that website's URL properly and make sure that the url is correct.
You wil get error like this:
Your connection is not private, Attackers may be trying to steal your information from www.example.com (for example, passwords, messages, bank information or credit cards).
NET :: ER_CERT_COMMON_NAME_INVALID
Your Connection Is Not Private Error In Google Chrome :
Now we understand why we find these errors. Actually, we get this error in the Chrome browser due to SSL Security. When we visit a website and our browser does not verify the webpage's SSL certificate, then this error is displayed.
SSL is a secure method to encrypt data from your computer (in this case, it's your browser) and send to the server, help to keep the information private and safe while transmitting – and opposite.
HOW TO FIX GOOGLE CHROME "YOUR CONNECTION IS NOT PRIVATE" ANDROID:
When you get an SSL Certificate error message on android or computer there are several ways to fix this issue. Here i am giving you 5 solutions if any one of solution don't work for you then Please try other one's may be that can help you in fixing error.
Solution #1 – Correct the Date and Time on your Android Device
In most of case your wrong date and time causes this errors, Wrong date and time prevent google from checking the SSL certificate. This simple solution can fixed you android error problem. You just need to make sure your Date & Time is correct. For this Go to Setting > and select date and time > Check "Automatic date & time"
For Computer users : Go to Date and Time icon on the system tray and select Adjust Date & Time option. That will open a detailed windows now you can adjust the time and date there. Make sure it is correctly set with right time zone. (Indian standard Time zone :  IST (UTC +5:30)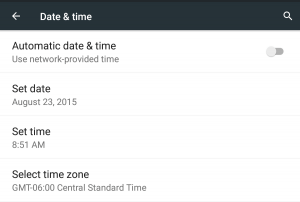 After setting it switch on off your phone and go to chrome browser and search for any URL. I hope now you will not get any error. But incase if you still getting this eroor then please try solution No 2.
Solution #2 – Clear Browsing Data and cache on Chrome :
Chrome may be showing this error due to lots of cache are stored on your browser or you have not clear browsing history from long time. To clear this open chrome browser on Android. Press Menu soft key or touch menu icon, Go to privacy > settings>Clear browsing Data. Check all the boxes and click on "clear".
For computer users : Open chrome browser on your PC. Go to Chrome setting and scroll down to advance setting then hit the Clear Browsing data button.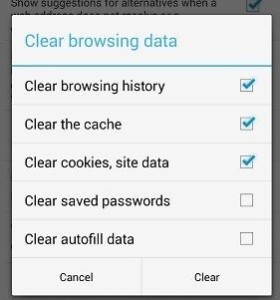 After clearing cache and browser history close the chrome browser.Refresh your window and visit to required website on chrome. I hope you will not get the Your Connection Is Not Private error this time. If you are still getting this error then follow Solution No3.
Solution #3 – Try to open the site in incognito/private mode :
May be you are getting this error in your normal window so open incognito window on your phone and then visit the required website.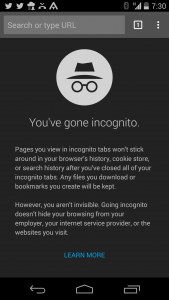 For Pc users : Open chrome browser and Press Ctrl + Shift +N on your keyboard and if you are using Mac then Press ⌘ + Shift + n.
Read about | Ubuntu terminal commands Every User Should Know 
Solution #4 – Disable Antivirus :
If you have installed any security app or antivirus protection application then uninstall that application try again to visit your required site on Chrome browser. Sometime these apps interfere in verifying SSL certificate.
For Pc users : If you think your antivirus blocked SSL connections, and there is nowhere to turn off "SSL Scanning" feature. You should temporary block this feature and try to access the website.
Solution #5 – Reset your Android Device
I will suggest you to do this only when all of the above solution not works for you. If you reset your device then your phone will go on default setting. Always take full backup of your android device before Reset your android device. Go to Settings > Backup & reset > Click Factory Data Reset.
How to Fix "Your Connection is Not Private" Error in Chrome?
If you are facing Your Connection is Not Private error in chrome then try these solutions (1.)Update your Date & Time (2.)Uninstall antivirus or Security application (3.)Open incognito window on chrome browser (4.)Clear browsing data and cache of chrome browser (5.)Factory Data Reset Your Phone.
Conclusion :
So guys this was a complete guide to Fix "Your Connection Is Not Private Android" error. I hope This post will helped you in solving your problem. If you want to appreciate our work then please share this post with your friends on facebook.