Youtube Song Finder : Best Way To identify songs in YouTube videos : It's a common situation with everyone, When you are watching a video on youtube and suddenly in that video you get to hear a cool background music. But you have no idea about how to find a song in a YouTube video, because you don't know their names.
Frankly telling you it can be little bit difficult for you to find a song without knowing it name. Because there are tons of music available on internet. So, Now what to do?
Here is a good news for you! In this article i am going to share with you 7 Best Way To identify songs in YouTube videos.
Youtube Song Finder : 5 Best Way To identify songs in YouTube videos
Method 1 – Carefully Check the Video Description.
How to find a song in a youtube video : The best and easiest way to identify music in youtube videos is to check video description and comment of that.
When your favorite youtuber uploads a video to youtube, then there is high chances that whatever music they have used in their video, they will mention the real singer and album name to give credit.
Because there is a YouTube policy that if you are using any music in your video then you have to give music credits. Otherwise YouTube can down your video from your channel.
So first thing you need to do is Go to description box and scroll down below there you will find a music section. This will have the song's name and the artist. Now if there is a link available then just tap on link to go to the original Music and if there is a music name then search that music on youtube or google in order to Identify Music in YouTube Videos.
Method 2 – Search the Obscure Music Lyrics in Google.
One of the best way to find music used in a youtube video is to focus on lyrics. Suppose if you are watching a video on youtube and you are clearly listening to his music lyrics. Well, then it will be very easy for you to find that song. Simply go to Google and search for a line or two on Google, you will find that song.
Read also :- How to Increase Download Speed in Chrome?
Sometime google will not give you the exact search result in that case you can search for the same on  Find Music By Lyrics website. It is also powered by google but it use the best possible google setting to find the exact music name by its lyrics.
Method 3 – Using Online YouTube Song Finder
There are some online youtube song finder available on internet which will help you in finding the songs. One of the best song identifier youtube is MooMa.sh. It is an online tool that can easily help you in finding the song you are searching for.
You just need to copy and paste the Youtube video link in the search box and Click on "Search" Then you will get the name of the song used in that particular video. In this way, you can easily find music from YouTube video.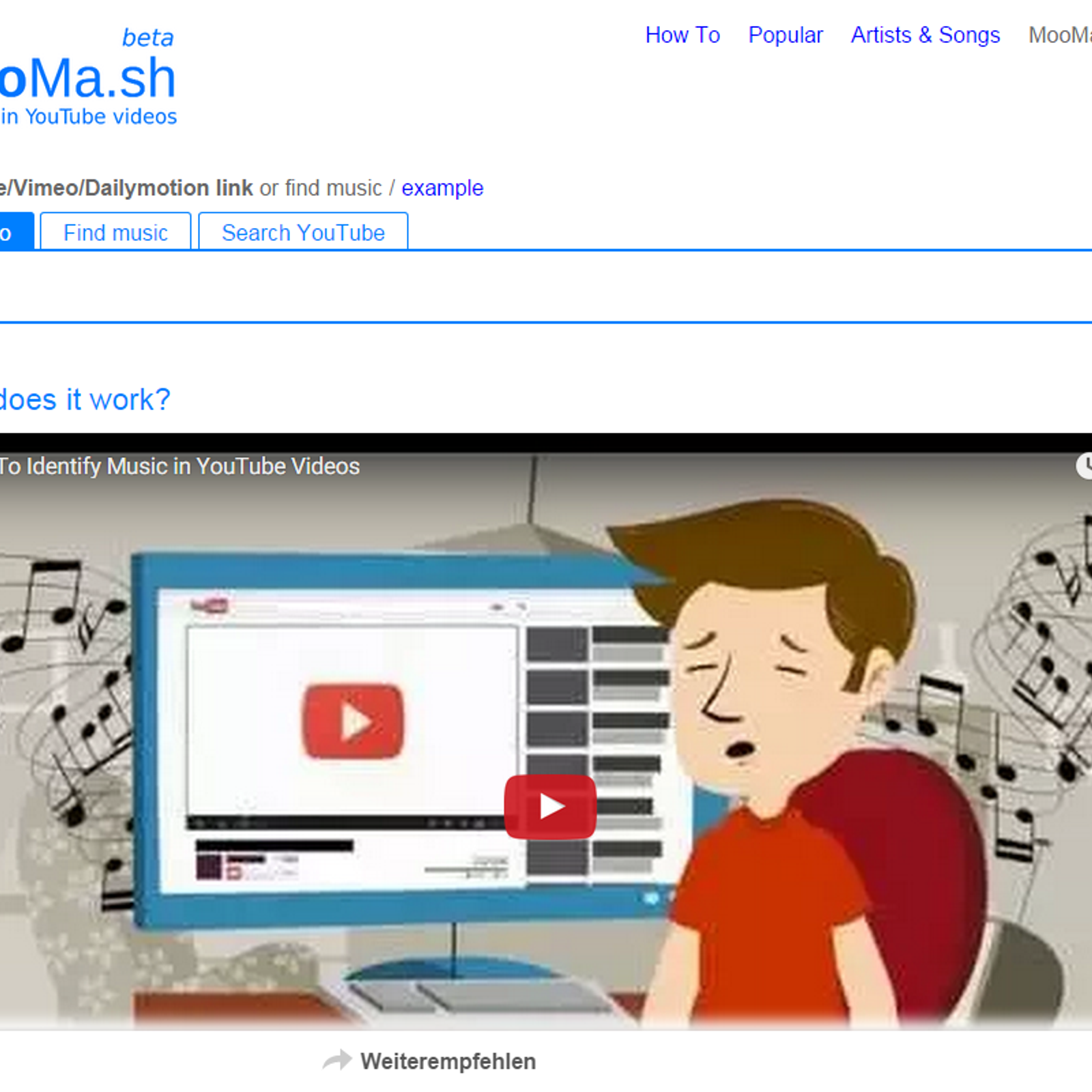 There are the categories that you can choose from :
Analyze Video
Find Music
Search YouTube
In case if you want to get wider variety of music then you need to be a member of this website.
Method 4 –

Using YouTube Music Finder Browser Extension/Add-on

If you are using chrome extension. Then it can be little easier for you to find songs used in YouTube videos. Because there is always an extension available for everything on chrome.

AHA Music – Music Identifier is an chrome extension which will help you in find music in youtube video. Just download and install this extension on your chrome browser.

Now whenever you are watching a YouTube video and you to want to find the music name used in that video. Just click on the extension icon and there you will get the music name in just 2-4 seconds. This is one of the best song identifier youtube.
Method 5 – Using Smartphone APP
If the song used in YouTube video is from a popular music track. Then You can use music identification services to find the song name. Shazam is a great app to discover and share the types of music that you love.
Today everyone uses smartphone. You just have to install Shazam from the playstore. Now open the application and play youTube video on on your desktop and bring the phone near the computer speaker.
It will tell you the song name in less than 5 seconds. This application has got 100 million+ downloads and 4.5 rating. You can imagine from the stats that how popular this app is. Which makes them one of the top sources of music and music details.
In case Shazam is not available for your android phone, then you can use SoundHound. This is similar application like shazam which will help you in identifying youtube music.
Method 6  – Check the Comments (or Ask)
YouTube has become one of the best ways to discover new music. If you are searching for a music of a popular YouTube video, you can also check the comment section of that video. Because you are not the first person who is searching for that music, there will be some other people besides you who will be eager to know about that sound track.
In such a case, someone has already discussed about the music name in comment. One of the easiest way to find songs name from comment is to  press Ctrl+F to open the browser's Find box and search for keywords like "song," "music" or even "tune." You will get the comments which have use these keywords in their comment.
Read also :-  How to type in hindi in Whatsapp
If you still do not get it then you can comment below: "what is the tracked use in this video" or what's the song name used in this video". Whoever knows the music name they will definitely reply to your comment.
Method 7 – Use Music ID
Music Id is an online song finder app that helps you in identifying any kind of music. You can download this application from iTunes app store. However, it is only available for iOS devices.
Now there are many options available for identifying or find a music. One of my favourite is Finding Music with it title. You just need to enter the title of Music and click on Search button. It will shows you the exact music available with that title.
You can easily download or listen to the music directly through the app. However this app is not available for free. It's a paid app but is not very expensive. If you have a lots of songs to identify then 3$ is worth to invest on this app.
Conclusion :
Friends this was the 7 Best Way To identify songs in YouTube videos. I think these YouTube Song finder tricks are enough to find any youtube music from Videos. I hope you will find this guide helpful. If you find it helpful then please share this post on Facebook. Good luck!
SHIVAM KUMAR